Art (1900-1945) > Expressionism Christian Rohlfs - Biography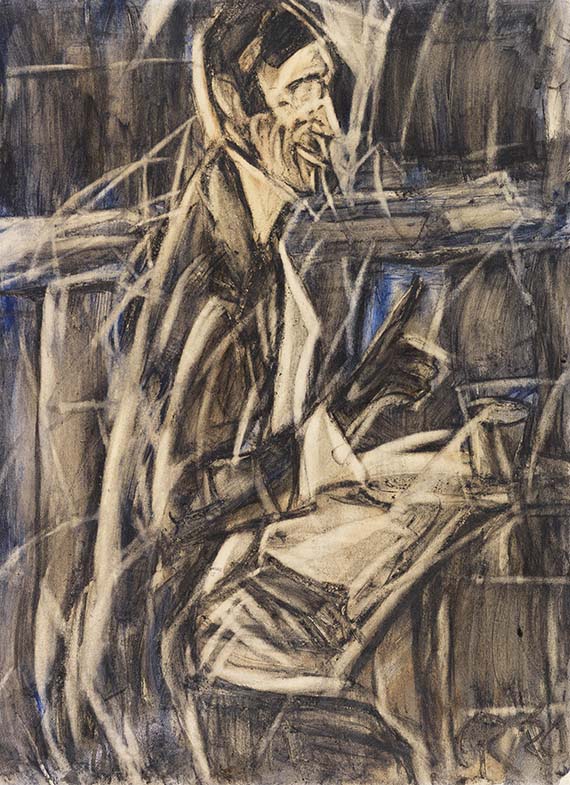 ---
Redner. 1920.
Watercolor and India ink.
Vogt 1920/25. Bottom right monogrammed and dated. On laid paper. 66.5 x 48.5 cm (26.1 x 19 in), the full sheet.
[KT].
• Technically extremely varied sheet, a document of Rohlf's experimental treatment of color.
• Rare figure representation in the artist's oeuvre.
• Expressive examination of current socio-political tendencies in the early 1920s.

PROVENANCE: Collection Heinrich Kirchhoff, Wiesbaden.
Collection Dr. Conrad Doebbeke, Berlin (until 1954, acquired from Tony Kirchhoff, presumably after 1942).
Estate of Conrad Doebbeke (1954 - 1959, Stuttgarter Kunstkabinett, May 29/30, 1959).
Private collection (acquired in 1959).

LITERATURE: Sibylle Discher, Der Mäzen Heinrich Kirchhoff (1874-1934) und seine Wiesbadener Kunstsammlung. Eine vergleichende Studie zur privaten Sammlerkultur vom Wilhelminischen Kaiserreich bis zum Ende der Weimarer Republik, Wiesbaden 2018, p. 116 and p. 307, cat. no. 695.
Stuttgarter Kunstkabinett, Roman Norbert Ketterer, Stuttgart, 33rd auction, May 29/30,1959, lot 801 (with illu.).

In good condition. Outer top left corner with a small material blemish. With a small split (ca. 0.5 cm) in top right margin.
For information concerning the condition, please view the high resolution image / backside image.