Art (1945-contemporary) > Abstract Art Post-War Bruce McLean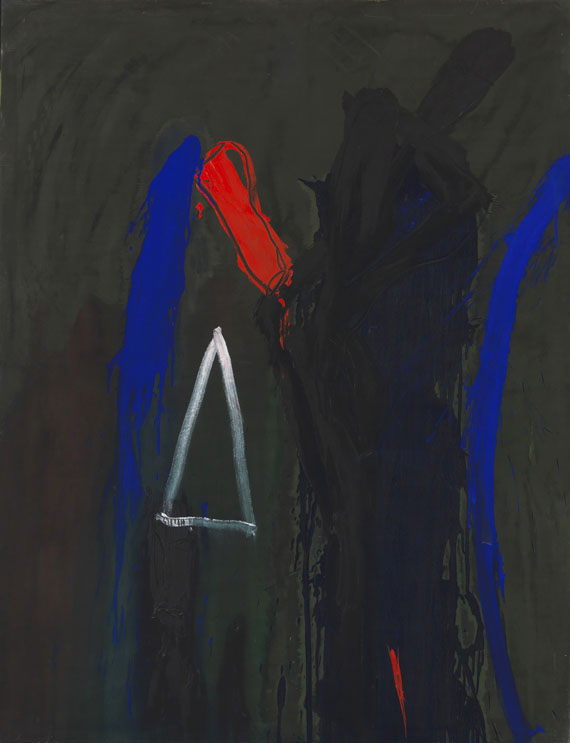 ---
The Dunce. 1985.
Oil and Acrylic on canvas.
With an exhibition label inscribed with the artist's name and the title in typography on the stretcher. 214 x 167 cm (84.2 x 65.7 in). [CH].

• Partly impasto large-size work by the versatile sculptor, painter and performance artist.
• The year it was made the work was shown in the grand solo show at Tate Britain, London (July 3 - September 8, 1985).
• The same year McLean was awarded the acclaimed John Moores Painting Prize.
• In 1977, 1982 and 1987 his works were shown at documenta 6, 7 and 8 in Kassel.
• Other works from the 1980s are in possession of renowned international collections like the Museum of Modern Art, New York, Tate Gallery, London, the Museum für Moderne Kunst, Frankfurt a. M., the Berlinische Galerie, Museum für Moderne Kunst, Berlin, and the National Gallery of Scotland, Edinburgh.

PROVENANCE: Private collection Berlin.

EXHIBITION: Good Manners and Physical Violence, Tate Britain, London, July 3 - September 8, 1985 (with a label on the reverse).

Large-size work in very good condition. Margins just minimally rubbed. The condition report was compiled in daylight with the help of an ultraviolet light and to the best of knowledge.
For information concerning the condition, please view the high resolution image / backside image.