Art (1900-1945) > Expressionism Max Peiffer Watenphul - Biography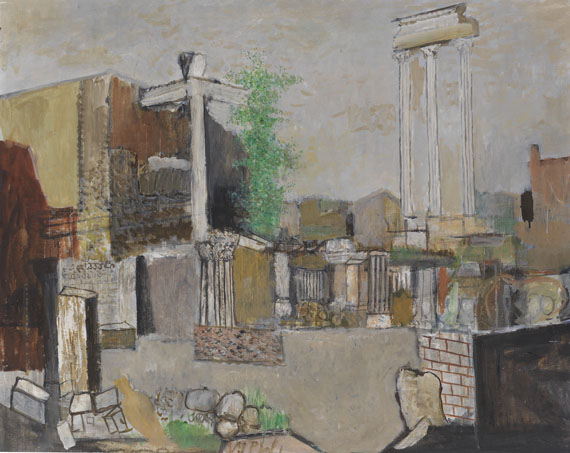 ---
Rom, Forum Romanum I. 1930.
Oil on canvas.
Watenphul Pasqualucci/Pasqualucci G 150. Monogrammed in bottom center. 75.5 x 95 cm (29.7 x 37.4 in). [CH].

• Rome as stage setting: The artst pieces together his architectural compositoon with great wariness and his characteristic objective sobriety.
• Rome was a fateful place for the artist's future: In 1931 Peiffer Watenphul was awarded the Rome-Prize and then studied at the Villa Massimo for several months.
• The artist pursued a path contrary to the then prevailing tendencies of Abstraction and Expressionism in German art.

PROVENANCE: Private collection Southern Germany.

"He was one of those painters whose eyes and soul were opened for the Mediterranean world through the encounter with Rome."
Bernhard Degenhart, in: Grace Watenphul Pasqualucci u. Alessandra Pasqualucci, Max Peiffer Watenphul. Catalog raisonné, vol. I, Montepulciano 1989, p. 12.

Atmospheric Roman scene in good condition. Small isolated adhesions. Margins with small isolated holes and canvas blemishes with very tiny color losses, presumably from a former lining. The condition report was compiled in daylight with the help of an ultraviolet light and to the best of knowledge.
For information concerning the condition, please view the high resolution image / backside image.