Art (1945-contemporary) > Figurative Painting (70s - contemporary) Hanne Darboven - Biography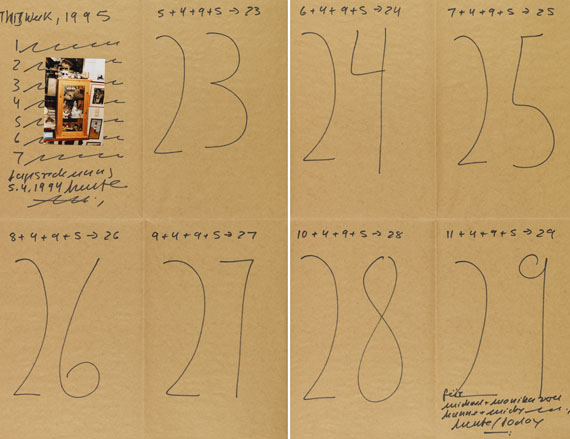 ---
THIS week 1995 - Tagesrechnung. 1994/95.
Felt-tip pen drawing with collaged color photo on brownish paper, folded.
Signed "Hanne + Micky". 75 x 99.5 cm (29.5 x 39.1 in).
Hanne Darboven called her 2 goats 'Micky'. [AM].
• The artist uses additions and numerical series to visualize time.
• Hanne Darboven was one of the few women in Minimal Art.
• Works by the artist are at, among others, the MoMA NewYork, the Centre Pompidou Paris and the Hamburger Bahnhof Berlin.

PROVENANCE: Private collection Northern Gemany (directly from the artist).

In good condition. Minimal isolated handling creases.
For information concerning the condition, please view the high resolution image / backside image.