Art (1945-contemporary) > Figurative Painting (40s-60s ) Rolf Nesch - Biography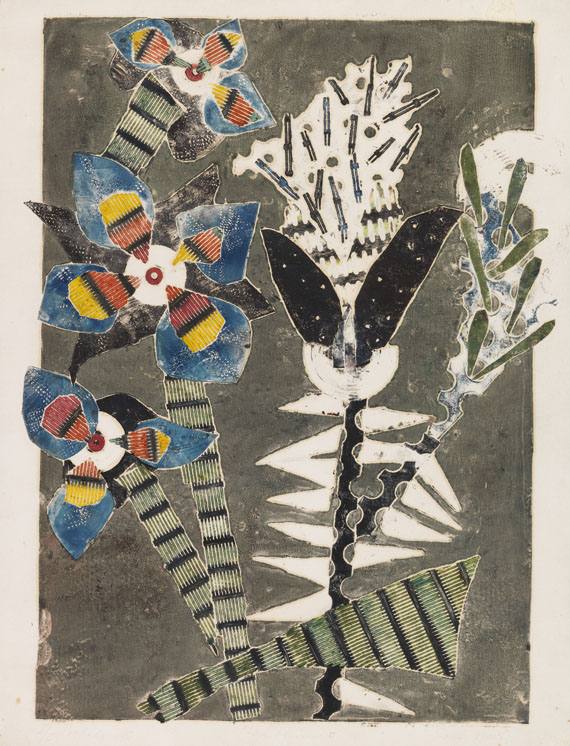 ---
Sternblumen II. Um 1953.
Farbiger Metal print with relief embossing.
Not in Helliesen/Sørensen (cf. Helliesen/Sørensen 683). Signed, titled, numbered and inscribed "I/II Probedruck". Trial proof aside from the edition. On firm Van Gelder Zonen wove paper (with watermark). 59.7 x 46.5 cm (23.5 x 18.3 in). Sheet: 64,8 x 50,8 cm (25,5 x 20 in).
Under number 683, the catalog raisonné Helliesen/ Sørensen mentions other titles such as "Sternblume II", which might perhaps denote our work, which is not explicitly mentioned in the catalog raisonné. [CH].
• ´Work in strong colors and with an appealing surface texture.
• Nesch' versatile graphic oeuvre earned him fame in both Germany and his domicile of choice Norway, where he is considered one of the country's most renonwned artists.

With fine colors and in good condition. With tiny pinholes in corners and margins, presumably from making. Small isolated brownish spots and some squeezemarks in margins. Right margin with a small split (ca. 1 cm). With very fine colors.
For information concerning the condition, please view the high resolution image / backside image.