Art (1945-contemporary) > Figurative Painting (70s - contemporary) Stefan Szczesny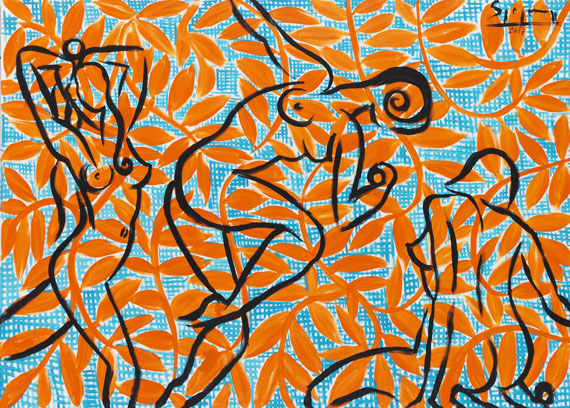 ---
Ohne Titel. 2017.
Oil on canvas.
Signed and dated in upper right. 180 x 251 cm (70.8 x 98.8 in). [CH].

• In the 1980s Szczesny, alomg with Walter Dahn and Jirí Georg Dokoupil, was one of the protagonists of teh Cologne group "Neue Wilde".
• Szczesny often combines his gaudy color modulations with back figurative line compositions.
• In 2000 Szczesny designed the WWF pavilion at the EXPO in Hanover.
• In 2014 he was the first German artist honored with a retrospective at Palais des Papes in Avignon.

PROVENANCE: Private collection Southern Germany.

"Personally l think that art always has to be life-affirming and that is has to uplift the observer. [..] To me visual art is just like music: Jazz, Rock or Pop also give the listener a positive feeling."
Stefan Szczesny, quote from: www.disy-magazin.de/Stefan-Szczesny-Kronsbein.4458.0.html


For information concerning the condition, please view the high resolution image / backside image.