Art (1900-1945) > Figurative Painting (1900-30s ) Heinrich Hoerle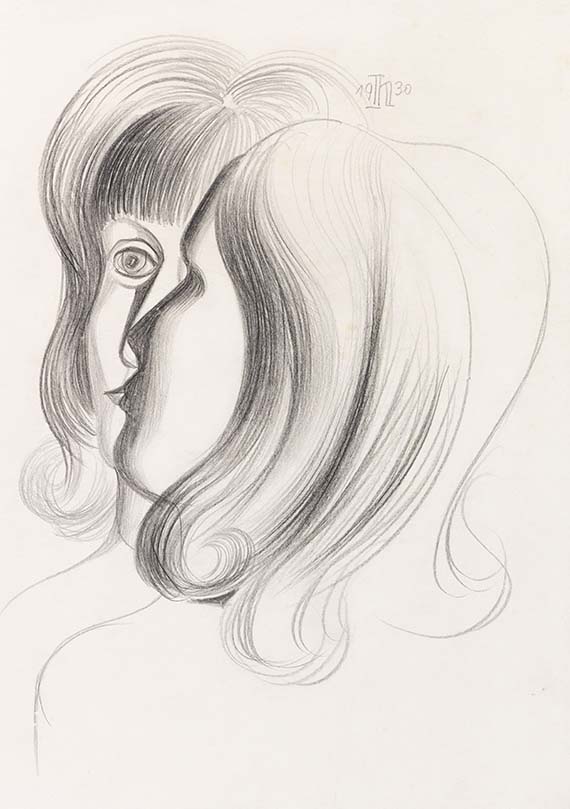 ---
Ohne Titel ("Mädchen vor Spiegel"). 1930.
Pencil drawing.
Upper right monogrammed and signed. On wove paper. 47.5 x 33.6 cm (18.7 x 13.2 in), almost the full sheet.
[SL].
• Hoerle delivers proof fo fhis graphic gift.
• The look in the mirror is a popular motif throughout art history.
• Memeber of the group of the "Lunists" together with Max Ernst and Otto Freundlich.
• Co-founder of the "Group of progressive artists" (1924-1933) along with Raoul Hausmann, Laszlo Moholy-Nagy and August Sander.

PROVENANCE: Galerie Remmert und Barth, Düsseldorf.
Deutsche Bank Collection (acquired from the above).

EXHIBITION: 25. Fünfundzwanzig Jahre Sammlung Deutsche Bank, Deutsche Guggenheim, Berlin, April 30 – June 19, 2005, p. 184, with color illu., no. 28) .

In good condition. Minimal handling creases and slight unobtrusive discolored spots along margins. Isolated brownish spots and a slight paper skinning in center of lower margin.
For information concerning the condition, please view the high resolution image / backside image.