Art (1945-contemporary) > Abstract Art Post-War Georges Mathieu - Biography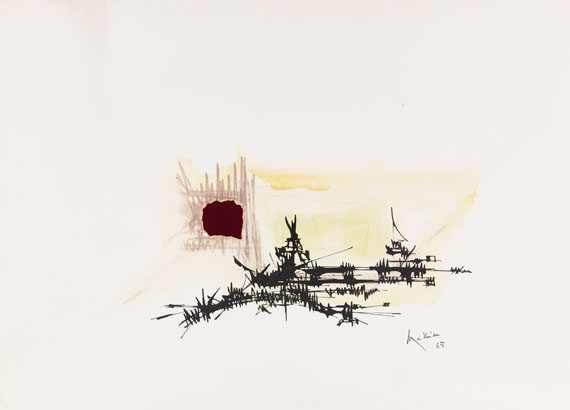 Pergola. 1965.
Watercolor with India ink and red velvet paper.
Lower right signed and dated. Verso titled. On firm wove paper by Arches (with the blindstamp). 56.6 x 77.3 cm (22.2 x 30.4 in), size of sheet.

We are grateful to Mr Jean-Marie Cusinberche for his kind support in cataloging this lot.

PROVENANCE: Galerie Saqqarah, Gstaad.
Private collection (acquired from aforementioned).
Private collection Southrn Germany.

LITERATURE: Van Ham Art Auctions, Cologne, auction on June 3, 2015, lot 205, p. 121.

The art of Mathieu, main protagonist of French Tachism, has various sources of inspiration. His gestural painting was influenced by Hans Hartung and Wols, as well as by East Asian calligraphy. To the artist it's about the immediate, emotionally guided and intuitive painting act. This work offered here shows how he integratres a speedy painting process and thus coincidence as stylistic means. [FS]

Fascinating work in watercolor and Inida ink, collaged with red velvet paper. Broad margin with tiny isolated brownish spots. With mounting remains all the way round on verso, showing on recto only in lower edge (not visible in frame and mount).
The condition report was compiled in daylight and to the best of knowledge.
For information concerning the condition, please view the high resolution image / backside image.