Art (1900-1945) > Figurative Painting (1900-30s ) Werner Heldt - Biography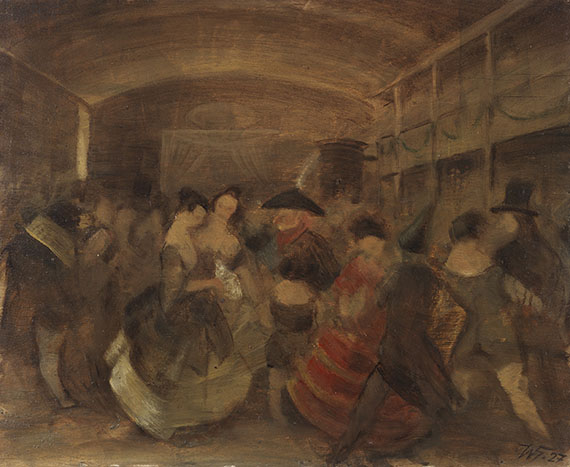 Karnevalszene (Ball Alt-Berlin). 1927.
Oil on panel.
Seel 40. Lower right (presumably at a later point) monogrammed and dated. Verso signed. 37.5 x 45.5 cm (14.7 x 17.9 in).
Verso inscribed with the note "WVZ 40" referencing the catalog raisonneé by a hand other than that of the artist. [CE].
From a notable collection.
This work comes from the artist's early period of creation.
In the 1920 he and Zille studied life of "Berlin from the bottom" (Schmied, p. 24), which he captured in this genre scene with great verve.

PROVENANCE: Collection Siegfried Enkelmann (verso with inscription)
Private collection Berlin.

EXHIBITION: Werner Heldt - Commemorative Exhibition Haus am Waldsee, Berlin November 17 - December 15, 1954, ex. cat. no. 6.
Werner Heldt - Retrospective, Kestner-Gesellschaft Hanover 1957.
Werner Heldt, Retrospective, traveling exhibition Hanover/Mannheim/Berlin/Düsseldorf 1968, ex. cat. no. 8 (illu.).

LITERATURE: Villa Grisebach, Berlin, November 29, 2003, lot 221.

In good condition. With a few small splits owing to material. Margin slightly rubbed from framing. The condition report was compiled in daylight with the help of an ultraviolet light and to the best of knowledge. [CE]
For information concerning the condition, please view the high resolution image / backside image.