Art (1945-contemporary) > Figurative Painting (70s - contemporary) Bernhard Heisig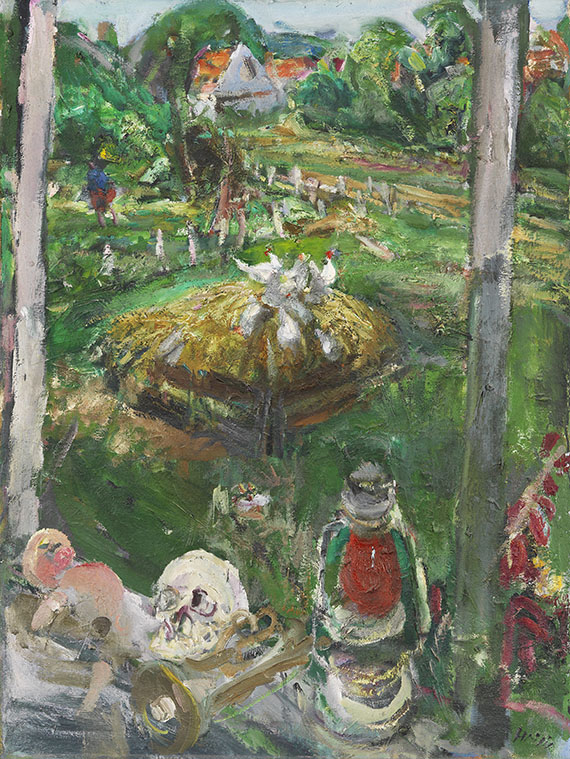 Blick in den Garten. 1987.
Oil on canvas.
Signed in lower right. Verso signed, dated and titled. 81.5 x 60.5 cm (32 x 23.8 in).

We are grateful to Prof. Johannes Heisig and Mr Rüdiger Küttner for their kind support in cataloging this lot.

PROVENANCE: Private collection Germany.
Private collection Lower Saxony (acquired from aforementioned).

This painting "Misthaufen" (Dung PIle) was made in 1987. It is a document from Heisig's transitional period between his socio-critical themes and his occupation with pure landscape painting as of the early 1990s. By paralleling the dung pile and the war memorabilia in the foreground, the artist still works up the stirring events of World War II. Heisig once described his artistic creation, which he saw as a form of self-healing, as follows: "The way I live and work is more influenced by what makes me feel uneasy than by what makes me happy. If I were a balanced person, I would not paint. I guess that's how most people feel, and I am glad I can use painting to let off steam this way." (Quote from: Bernhard Heisig. Zeit zu leben. Malerei, Bielefeld 1994, p. 23). [JS]

In fine condition, with strong colors. Minimally dusted and with small isolated colorlosses in places of egdes. Canvas minimally wavy from technique.
The condition report was compiled in daylight with the help of an ultraviolet light and to the best of knowledge. [JS]
For information concerning the condition, please view the high resolution image / backside image.