Art (1900-1945) > School of Munich Karl Raupp - Biography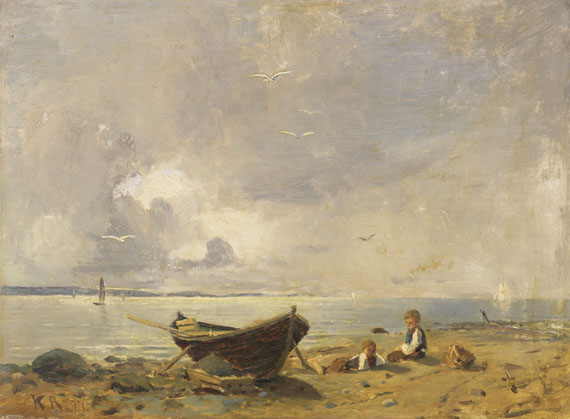 Abendstimmung am Chiemsee. 1911.
Oil on panel.
Lower left monogrammed and dated. Verso with various hand-written inscription in pencil. 26.5 x 34.9 cm (10.4 x 13.7 in).

PROVENANCE: Private collection Central Germany.

Karl Raupp visited the Chiemsee with the island Fraueninsel for the first time in 1869. Having discovered the region, its landscape and people the artist felt so strongly inspired that he created an oeuvre that earned him the sobriquet "Chiemsee-Raupp". In his paintings Raupp combines close observation of nature, especially the quickly changing weather condition with lovely genre pictures of fishermen, hunter, peasant families or young couples. Raupp executed his pictures both in his studio in Munich and in front of nature. The latter compositions are characterized by a swifter brushstroke. [FS]

Painting in swift duct, varnish not affecting image's edges but only the framed section. Varnish slightly yellowed. Very subtle craquelé and tension cracks. In good condition.
The condition report was compiled in daylight with the help of an ultraviolet light and to the best of knowledge.
For information concerning the condition, please view the high resolution image / backside image.