till 1900 > 19th Century Ludwig von Zumbusch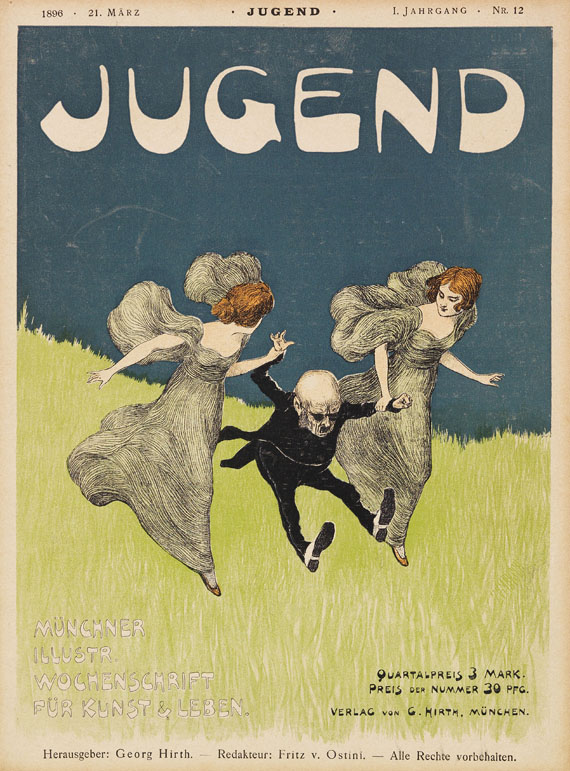 6 Bll.: Titelblätter der Zeitschrift "Jugend. Münchner illustrierte Wochenschrift für Kunst und Leben". 1896-1898.
Several Print techniques (reproductions after the artist's models).
Ca. 29 x 22.5 cm (11.4 x 8.8 in), size of sheet.
Contains title page of the following editions: 1896, 1st year: no. 12 (21st March) and no. 28 (11 July). 1897, 2nd year: no. 23 (5 June), and no. 40 (2nd October). 1898, 3rd year: no. 23 (4 June).
ATTACHED: "Jugend" title page 1897, 2nd year: no. 38 (18 September) with an illustration after Franz von Stuck.
Each with typographic text and further illustrations on verso. The magazine was published by Georg Hirth's Verlag in Munich & Leipzig. [CB].

All in all in good condition. Paper browned in places and slightly sunned. Left margin with irregular tear caused by removal from magazine, with traces from the original staples or trimmed respectively. Slightly scuffed in places of edges and with small isolated splits or paper blemishes. Slight creasemarks and handling creases.
For information concerning the condition, please view the high resolution image / backside image.