Art (1945-contemporary) > Abstract Art Post-War Raimer Jochims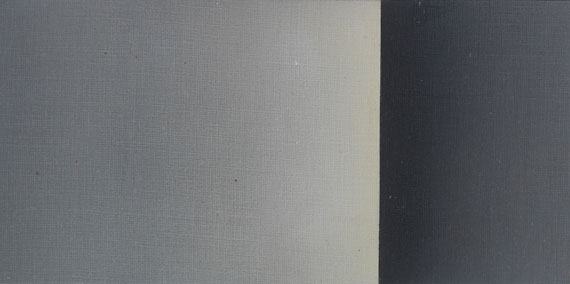 Ohne Titel. 1967.
Acrylic on structured wove paper, firmly mounted on board.
Twice signed, dated and inscribed "67/6". 7.4 x 15 cm (2.9 x 5.9 in). Board: 8,2 x 15,7 cm ( x 6,1 in).
The artist signed, dated and inscribed this work in lower right and upper left so that it can be rotated by 180°.
With his chromatic variations Reimer Jochims explores the characteristics of color in connection with form.
This work from the collection Defet is sold in the Ketterer Kunst internet auctions for the benefit of the Neues Museum - State Museum for Art and Design, Nuremberg.[FS].

PROVENANCE: Collection Defet, Nuremberg.

Object in good condition. With slight rubbings and small isolated paper adhesions, as well as pinholes in corners, presumably originating from mounting.
For information concerning the condition, please view the high resolution image / backside image.