till 1900 > Old Master Paintings Ferdinand Kobell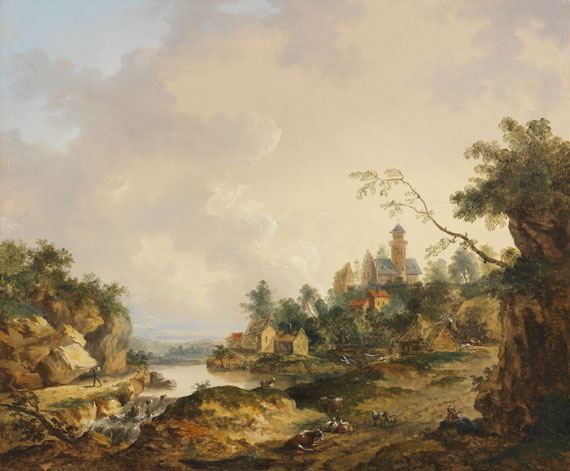 Ideale Flußlandschaft mit Schloß, Wasserfall und Personenstaffage. Ca. 1769.
Oil on panel.
Lower right signed and illegibly dated. 36.3 x 43.8 cm (14.2 x 17.2 in).
Verso with label remains "The Anderson G." / "Rec. No. [by hand]: 5807(?)". Verso of frame with label "Kunst und Antiquitäten Schloß Schwetzingen 1994". [CB].

We are grateful to Dr. Margret Biedermann, Munich, for her kind expert advice.

PROVENANCE: Private possession South-West Germany.

In good condition. Subtle isolated craquelée. Small isolated retouched spots, predominantly in edges. Two larger closed and retouched seam cracks from right margin and small isolated wooden cracks in edges of panel. Slightly edgeworn.
The condition report was compiled in daylight with the help of an ultraviolet lamp and to the best of knowledge.
For information concerning the condition, please view the high resolution image / backside image.