Art (1945-contemporary) > Surrealism Konrad Klapheck - Biography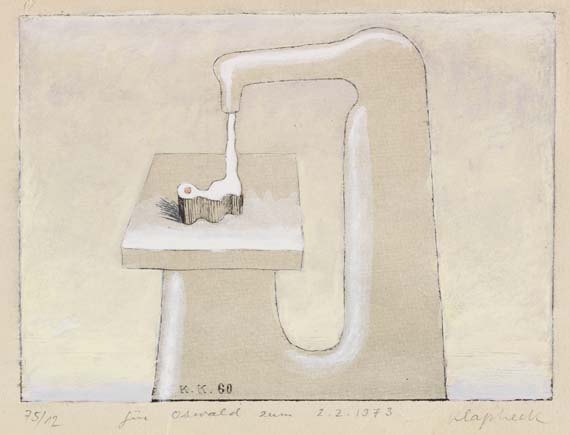 Fruchtbarkeit (Phantasiemaschine). 1960.
Gouache over etching.
Klapheck 1, Wessolowski 1. Signed, numbered and with a personal dedication. Monogrammed and dated in the plate. One of just 10 copies, each differently colored by the artist's hand. On slightly structured wove paper. 10.7 x 14.8 cm (4.2 x 5.8 in). Sheet: 15,9 x 23 cm ( x 9 in).
Published by Arturo Schwarz, Milan.
The catalog raisonné by Tanja Wessolowski mentions that from the original edition of 75 copies the artist withdrew 65 copies, the remaining 10 copies in different colors are still in existence. [ST].

PROVENANCE: Private collection Hesse.

Hand-colored etching in good condition. Margins with minimal isolated handling creases. With faint mount staining. Hand-colored etching without rubbings.
backside image.