Art (1945-contemporary) > Abstract Art Post-War Anton Stankowski - Biography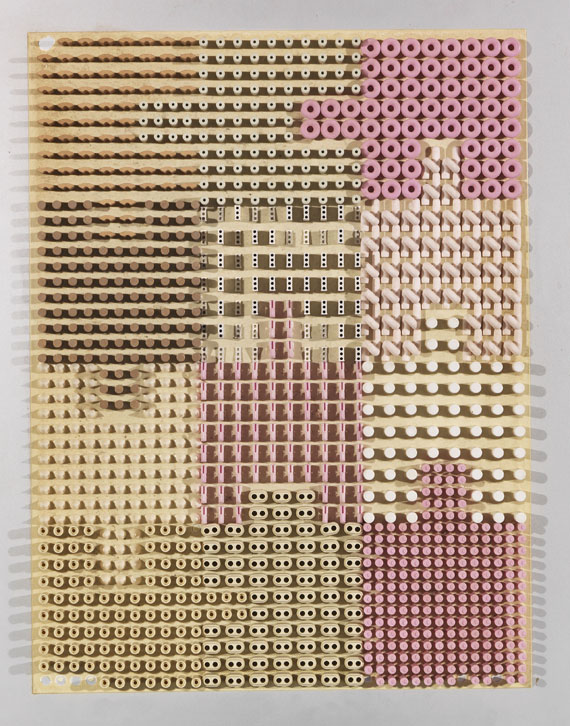 Ohne Titel. Um 1970.
Multiple. Relief picture wit ceramic elements, mounted on an aluminum Dibond plate.
Presumably from an edition of 700 copies. Total dimensions: 58 x 49 x 2 cm (22.8 x 19.2 x 0.7 in).
Verso with wall mounting.
The twelve teethed fields of ceramic elements made by the Rosenthal Technik AG symbolize the twelve months of the year. In 1971 the Rosenthal AG in Selb showed the Stankowski exhibition "Informatismus/Übungen". [CB].

Anton Stankowski studied graphic art, typography and photography under Max Burchartz at the Folkwangschule in Essen in 1927. Earlier he had completed an apprenticeship as decoration and church painter. In 1929 Stankowski moved to Zurich, where he worked for the renowned advertising studio of Max Dalang. With a new photo- and typographic approach he developed the so-called 'constructive graphic'. In 1951 Stankowski moved into his own studio in Stuttgart, Killesberg. Along with Willi Baumeister, Max Bense, Walter Cantz, Egon Eiermann, Mia Seeger and others a new circle of artists and designers came into existence in Stuttgart. Stankowski taught at the Ulm School of Design and was a member of the International Centers for the Typographic Arts (ICTA) in the 1960s. From 1969 to 1972 Stankowski was director of the board for visual design for the Olympic Games in Munich.

Slightly soiled. Some elements broken and loose attached. Plates slightly edgeworn. Without edition label. Else in good condition.
For information concerning the condition, please view the high resolution image / backside image.