Art (1945-contemporary) > Abstract Art Post-War Pierre Tal-Coat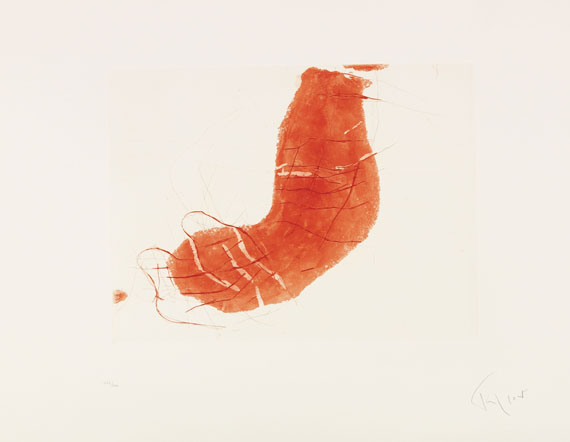 Ohne Titel. 1973.
Etching and aquatint in colors.
Signed and numbered. From an edition of 200 copies. On wove paper by Arches (with the watermark). 29.8 x 39.3 cm (11.7 x 15.4 in). Sheet: 50 x 65,5 cm ( x 25,8 in).
Printed by Atelier de taille-douce et de lithogaphie, St-Prex VD.
Sheet 24 from the "Graphikmappe des Schweizerischen Kunstvereins", 1975. [CB].

Pierre Louis Jacob, son of a Breton fisherman, moved to Paris in 1924 and adopted the artist name Tal-Coat (Breton: "wood-face"), in order to avoid being mistaken for the artist and poet Max Jacob. In the 1940s Tal-Coat was among the founding members of Tachism, a French variant of Abstract Expressionism, which prefers the spontaneous act of creation to one based on composition. Tal-Coat's works, rendered in various techniques, are characterized by this minimalistic formal aspect. In 1968 Tal-Coat was awarded the Grand-Prix National des Arts.

Edges slightly discolored. All in all in good condition.
For information concerning the condition, please view the high resolution image / backside image.