Art (1945-contemporary) > Figurative Painting (70s - contemporary) Franz Eggenschwiler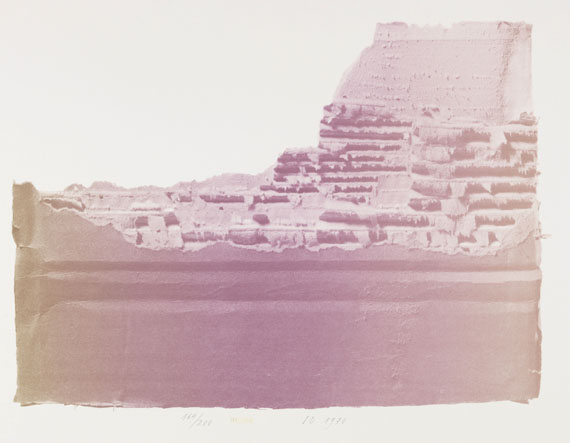 Babylon. 1970.
Offset -Iris print.
Monogrammed, dated and numbered. Additionally with stamp number and embossed number. From an edition of 200 copies. On wove paper by BFK Rives (with the watermark). 41.5 x 57.5 cm (16.3 x 22.6 in). Sheet: 50 x 65,5 cm ( x 25,8 in).
Printed by Dällenbach and Jordy, Köniz.
Sheet 8 from "Graphikmappe des Schweizerischen Kunstvereins", 1975. [CB].

After he had completed an apprenticeship as a glass painter Franz Eggenschwiler was active for the company Wüthrich in Bern until 1968. He also attended the painting school of Max von Mühlenen in Bern from 1951 to 1953. Together with Peter Meier, Konrad Vetter and Robert Wälti, Eggenschwiler was a member of the "Berner Arbeitsgemeinschaft" from 1955 to 1971. Initially his oeuvre comprised paintings, sculptures and graphic works, in 1967 he began to make works from waste and found objects. As of 1971 Eggenschwiler was part of the "Radiergemeinschaft Osterath" in Meerbusch-Osterath, founded by Helmut Runge, of which Joseph Beuys was a member, too. In 1972 Eggenschwiler participated in documenta 5 in Kassel, from 1981 to 1995 he taught at the Dusseldorf Academy. He is married to the artist Rosemarie Eggenschwiler-Wiggli.

Tiny isolated creasemarks in edges. Minimal handling creases. In good condition.
For information concerning the condition, please view the high resolution image / backside image.