Art (1945-contemporary) > Figurative Painting (70s - contemporary) Alan Davie - Biography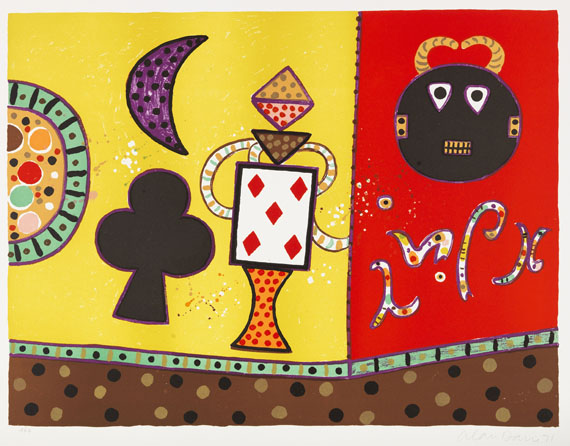 Guli Wall. 1971.
Lithograph in colors.
Signed, dated and numbered. From an edition of 200 copies. On wove paper by BFK Rives (with the watermark). 46 x 61 cm (18.1 x 24 in). Sheet: 51 x 65 cm ( x 25,6 in).
Printed by Matthieu AG, Dielsdorf.
Sheet 7 from "Graphikmappe des Schweizerischen Kunstvereins", 1975. [CB].

The Scotish artist Alan Davie, who is also a very successful musician, is one of the most important representatives of European post-war abstraction. Initially he found inspiration with non-European art as well as with Klee and Picasso. As of 1949 Davie developed a semi-automatic painting style, which found its way from a purely figurative to a symbolic style after 1960. The outline is the decisive means, as it also becomes obvious in this sheet "Guli Wall". Ornamental figures dominate the colorful composition, the interior drawing is structured by dabs and spike ornaments. A characteristic work by the artist from the early 1970s.

In good condition. Lower right corner with minimal creasemark.
For information concerning the condition, please view the high resolution image / backside image.