Art (1900-1945) > Expressionism George Grosz - Biography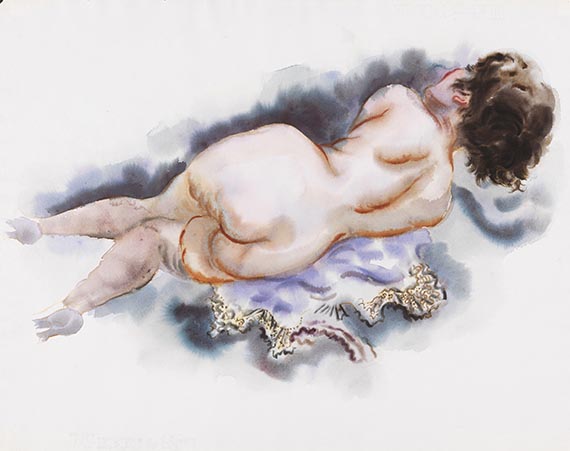 ---
Liegender Rückenakt. Ca 1928.
Watercolor.
Verso with the estate stamp and the handwritten registration number "UC 5 8". On wove paper by J. Green & Son (with watermark). 49.8 x 62.3 cm (19.6 x 24.5 in), Sheet size.
[AW].

• Sensually erotic nude depiction of the 1920s.
• George Grosz's characteristic image as voyeuer of an intimate scene
• Beautifully colored watercolor from the estate of the artist.

PROVENANCE: Estate of the Artist (verso with the estate stamp)
Galerie Ilse Schweinsteiger, Munich.
Private Collection, southern Germany.

EXHIBITION: Follow George Grosz. Gemälde, Zeichnungen, Druckgrafiken und Filme, Kunstsammlung Jena, 9.4.-26.6.2022, Kat.-Nr. 112 (with colored photograph. pg. 104).

In good, colorful condition. The outer edges of the sheet irregular, slightly browned and uneven. Along the edges of the sheet with a few tiny pinholes, probably due to previous mounting. The upper left corner of the sheet with a small paper loss (about 20mm).
For information concerning the condition, please view the high resolution image / backside image.