Art (1945-contemporary) > Figurative Painting (70s - contemporary) Mel Bochner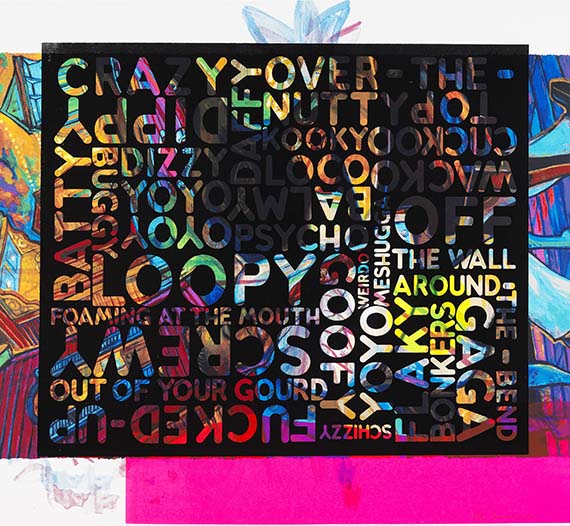 ---
Crazy (With Background Noise). 2018.
Silkscreen in colors.
Signed, dated and numbered. From an edition of 30 copies. On wove paper. 55 x 60 cm (21.6 x 23.6 in), the full sheet.
In this series the text is superimposed on test sheets from the printshop. Owing to the different backgrounds, each sheet is a unique piece. Printed by Luther Davis, BRT Printshop, Brooklyn, New York and published by Two Palms Press, Inc., New York, New York to benefit IPCNY (International Print Center New York. EH] .
• Mel Bochner is a founding father of Conceptual Art.
• His 1966 exhibition "Working Drawings and Other Visible Things on Paper Not Necessarily Meant to Be Viewed as Art" at the School of Visual Arts in New York is considered the first Conceptual Art show.
• Gaudy compositions with word chains are typical of this late work.
• Color variations of the background make each silkscreen a unique piece.


For information concerning the condition, please view the high resolution image / backside image.