Art (1945-contemporary) > Figurative Painting (70s - contemporary) Friedensreich Hundertwasser - Biography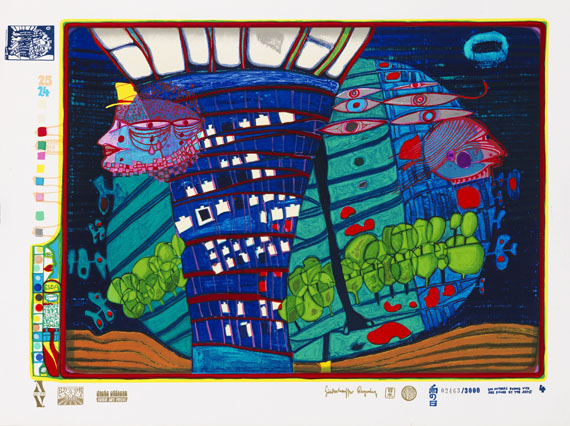 Flucht ins All. 1971.
Silkscreen with metal embossing.
Fürst HWG 47. With the stamped number. Signed, dated, titled, inscribed and with the work number "650A" in the printing form. With embossed signature and three Japanese embossing stamps. From an edition of 3,000 copies. On Schoeller-Stern cardboad (with blindstamp). 41.3 x 59.1 cm (16.2 x 23.2 in). Cardboard: 49,5 x 67 cm ( x 26,3 in).
Sheet 4 from the portfolio "Look at it on a rainy day". Printed by Dietz Offizin, Lengmoos/Bavaria. Published by Ars Viva, Zürich 1971/72. With printer's and publisher's embossing stamps. [EH].


For information concerning the condition, please view the high resolution image / backside image.