Art (1900-1945) > School of Düsseldorf Julius Paul Junghanns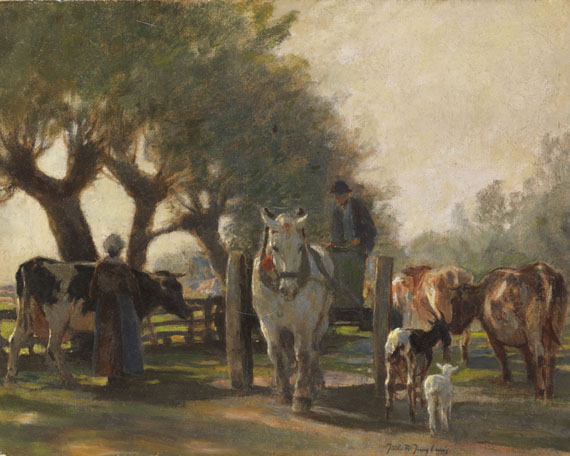 Auf der Koppel. Ca. 1927.
Oil on fibreboard.
Signed in lower right. 37.9 x 49.5 cm (14.9 x 19.4 in).

PROVENANCE: Private collection North Rhine-Westphalia.

The estate of the artist comprises a sheet with three watercolor sketches, which have a similar composition as this painting (see Gudrun Wessing, Julius Paul Junghanns. Skizzen und Gemälde aus dem Nachlaß, Bielefeld/ Münster 1995, p. 57). A carriage drawn by a white horse with a farmer on the truck is at the center of the depicted scene, surrounded by a peasant woman as well as cows, goats and sheep in varying numbers and loose arrangement. Variations of the group of trees in background can also be found in all of them. [FS]

Typical composition in oil on laminated wood panel. Isolated color flakings. Corners with small scuffmarks, edges with faint rubbings and small wood adhesions from framing. In good condition.
The condition report was compiled in daylight with the help of an ultraviolet light and to the best of knowledge.
For information concerning the condition, please view the high resolution image / backside image.