Art (1945-contemporary) > Figurative Painting (40s-60s ) Johann Georg Müller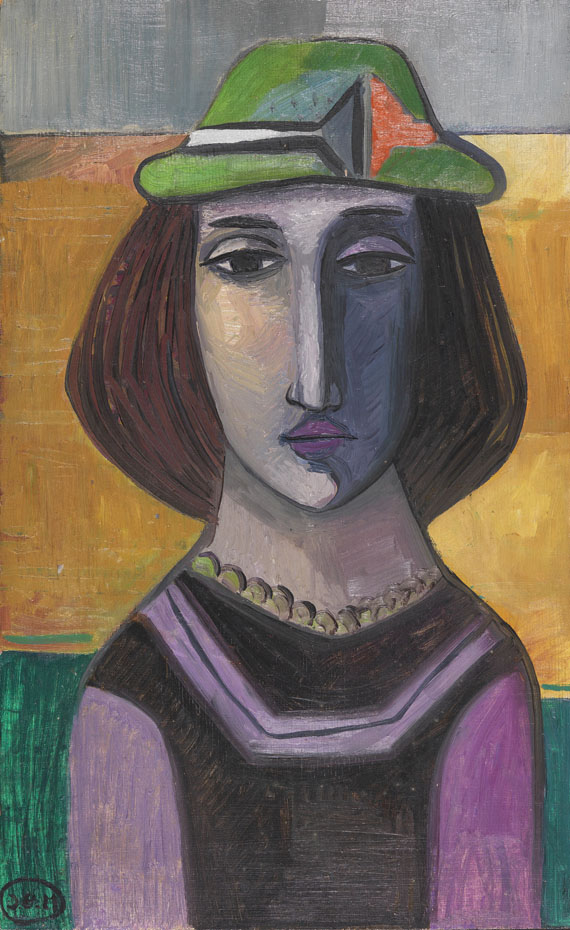 Bildnis einer Frau mit grünem Hut. 1950 s.
Oil on panel.
Scholzen/Roeber M X 5/13. Monogrammed in lower right. 54.5 x 33.5 cm (21.4 x 13.1 in).
Verso with original printing block of "Bärtiger Kopf" (cf. Scholzen/Roeber G X 5/31). [JS].

PROVENANCE: Private collection Italy.

There is some light frame rubbing in places, with a small material loss at the upper left. Panel with isolated capillary cracks. With slight clodding, predominantly in the yellow part at the lower left, there are also some tiny to small colour breakages in places of the black part. Black part in lower centre with minimal blistering and stains. Subject to the forgoing in good condition and strong colours. The condition report was compiled in daylight with the help of an ultraviolet light and to the best of knowledge. [JS]
For information concerning the condition, please view the high resolution image / backside image.