Art (1945-contemporary) > Concrete Art Victor Vasarely - Biography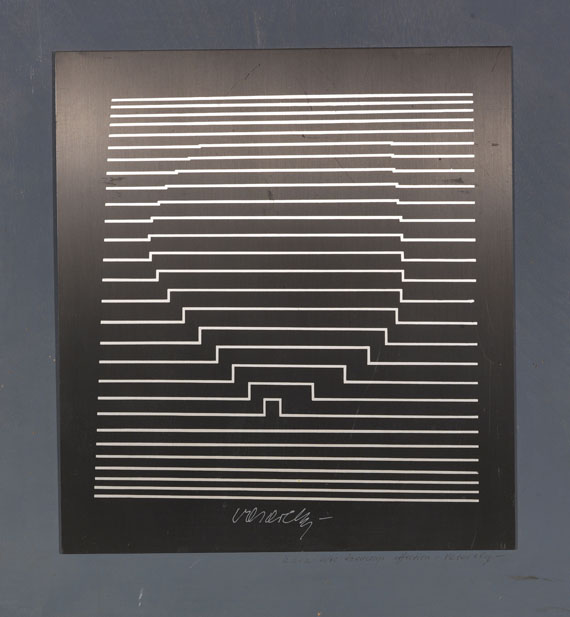 Ille. Wohl um 1956/60.
Silkscreen on a black plastic plate, firmly mounted on a gray wooden plate.
Signed, once more signed on the gray wooden plate and inscribed with a personal dedication. Verso of the wooden plate with a metal label with printed name and number. From an edition of 17 copies. 37.7 x 33 cm (14.8 x 12.9 in). Wooden plate: 48,5 x 44 cm ( x 17,3 in).
Our work is part of the group called Photographisms: Since 1951 Vasarely had been occupied with the effect of superimposed line drawings on transparent foils that he photographed. Minor alterations by superimposing, shifting and turning lead to ever new compositions. The homonymous oil painting "Ilile" was made in 1956/59. The method was also resonances in his 'Architectural Integrations' (e.g. the wall relief at the Cité Universitair, Caracas, 1954) and, of coruse, in this silkscren. [EH].
Multiple from the work group of 'Photographisms'.

Wooden plate scuffed and with color flakings and isolated mterial flakings. The plastic plate with the silkscreen is rubbed in places and has small isolated scratches.
For information concerning the condition, please view the high resolution image / backside image.