Art (1900-1945) > Expressionism Lovis Corinth - Biography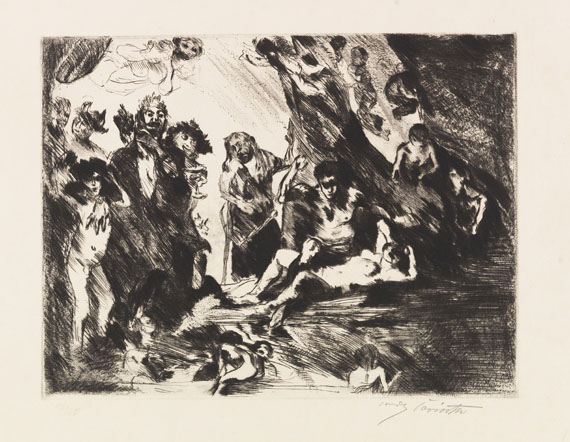 Homerisches Gelächter. 1920.
Drypoint.
Schwarz 395 IV (of IV). Signed and numbered. From an edition of 50 copies. On firm wove paper. 24.5 x 32.3 cm (9.6 x 12.7 in). Sheet: 35 x 51 cm ( x 20,7 in).
Illustration of the text from the Odyssey, 8th book, verse 292-327. Published by Verlag E. A. Seemann, Leipzig. Reversed replication of the painting from 1909. [CB].

In good condition. Paper slightly discolored and slightly foxed. Edges with mostly small squeezemarks and minor isolated paper blemishes. Left corners with creasemarks. All in all with handling creases.
For information concerning the condition, please view the high resolution image / backside image.