Art (1945-contemporary) > Figurative Painting (70s - contemporary) Claus Otto Paeffgen - Biography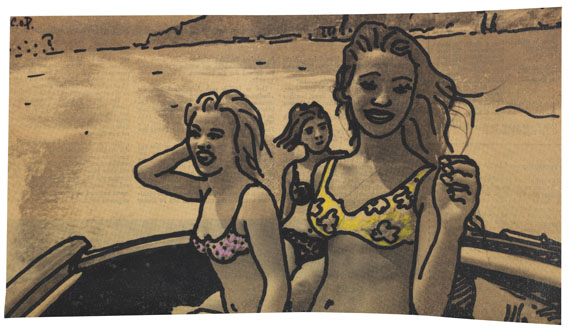 Drei Mädchen im Urlaub. 1970s.
Mixed media.
Upper left monogrammed. On newsprint, firmly laid on wove paper and coated with matte foil. 14.3 x 26.6 cm (5.6 x 10.4 in), the full sheet.
This work from the collection Defet is sold in the Ketterer Kunst internet auctions for the benefit of the Neues Museum - State Museum for Art and Design, Nuremberg. [ST].

PROVENANCE: Galerie Defet, Nuremberg (with gallery label on rear board of frame).

The work is in good condition. Edges irregular, presumably by the artist's hand.
For information concerning the condition, please view the high resolution image / backside image.