Art (1900-1945) > School of Munich Joseph Wopfner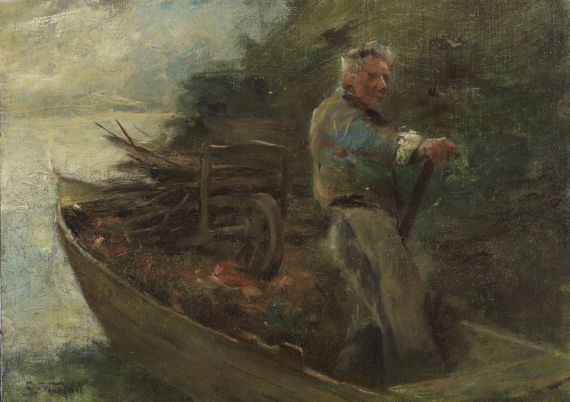 Alter Mann im Boot. 1920 -1927.
Oil on canvas , laid on board.
Holz 709. Lower left signed. 27.5 x 37.5 cm (10.8 x 14.7 in).
Verso with inscription and numbered and twice with artist's stamp. [CB].

PROVENANCE: From artist's estate (verso with the stamp).
Weinmüller, Munich, auction 139, 15 March 1972, lot 1808 (with illu. in cat.).
Weiner, Munich, auction 14. März 1984, Lot 185 (with illu. in cat.).
Philips, London, auction 26 November 1985, Lot 30 (with illu. in cat.).
Private ownership Southern Germany.

Good overall impression. Surface dirt. Isolated drycrack craquelée. Retouched and small overpainted spots in places of water and sky. Edgeworn from framing.
The condition report was compiled in daylight with the help of an ultraviolet light and to the best of knowledge.
For information concerning the condition, please view the high resolution image / backside image.