Art (1945-contemporary) > Abstract Art Post-War Dieter Roth - Biography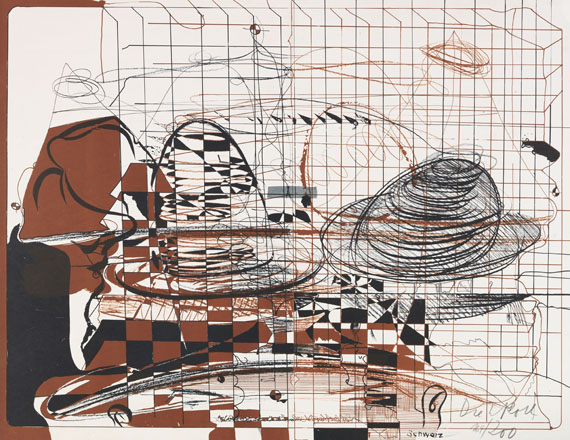 Kleiner Hutsalat. 1974 /1975.
Offset.
Dobke 325. Signed and numbered. From an edition of 200 copies. On Bristol board. 50 x 65 cm (19.6 x 25.5 in) , the full sheet.
Printed by Karl Schulz, Brunswick.
Sheet 22 from "Graphikmappe des Schweizerischen Kunstvereins", 1975. [CB].

Dieter Roth counts among the most acclaimed contemporary artists. Acquaintanceship with Jean Tinguely and Daniel Spoerri and the ensuing proximity to the Nouveaux Réalistes caused Roth to distance himself from Constructivism in the early 1960s. Dieter Roth's first one-man show was mounted by the Museum College of Art in Philadelphia in September 1964. Roth now began working with chocolate and would continue to use organic materials, for instance in his mildew pictures, so-called 'zerfallobjekten and-bilder' ['Decay objects and pictures'] and 'Gewürzbildern' ['Spice pictures']. In 1969 Roth showed work at documenta 4 and in 1977 at documenta 7. By then he was a leading German contemporary artist, collaborating on Happenings and other events with the likes of Arnulf Rainer and Richard Hamilton. In 1982 Roth designed the Swiss Pavilion at the Venice Biennale. As an artist, Dieter Roth was not concerned with beauty. On the contrary, he repudiated aesthetics in his approach to creative work. Roth played on irony, variability and Deconstruction, experimenting with all sorts of media and materials.

Right upper corner with minimal creasemark. In good condition.
For information concerning the condition, please view the high resolution image / backside image.