Art (1900-1945) > Impressionism Curt Herrmann - Biography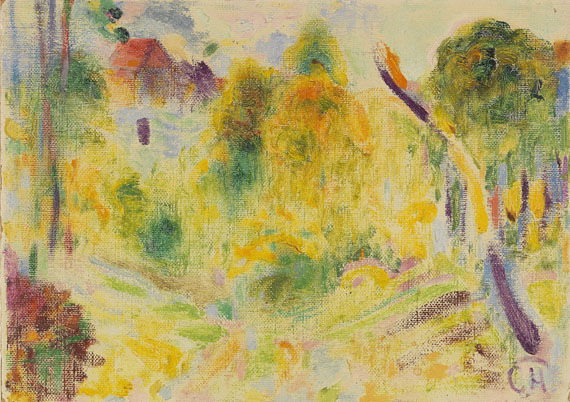 Landschaft. Um 1920.
Oil on board with embossed canvas, laid on hard fiber board.
Monogrammed lower right. 23.6 x 32.8 cm (9.2 x 12.9 in).

PROVENANCE: Private collection Southern Germany.

Zusammen mit Henry van de Velde und Paul Baum ist Curt Herrmann einer der wenigen Maler in Deutschland, die sich länger mit den Nachwirkungen des französischen Pointillismus auseinandergesetzt haben. Seine Arbeiten zeugen von einem kultivierten Farbsinn, der in einer Malweise der punktuellen Auflösung den Gesamtcharakter einer Komposition bestimmt. Die Farbe in ihrer reinen Wirkung bestimmt eine amorphe Form, die jeglicher linearer Konstruktion entbehrt. Das war in seiner Zeit ungewöhnlich und schwer vermittelbar. Curt Herrmann hatte sich diese Maxime zur Lebensaufgabe gemacht und ist ihr bis an sein Lebensende treu geblieben.


For information concerning the condition, please view the high resolution image / backside image.